AKA: Society and Sexuality
by Rich Cline (writing as Jack Leger) • QX, 9 October 2002

In his new three-image film AKA, British filmmaker Duncan Roy tells his own life story about assuming a false identity, getting caught and going to jail for it. It's certainly not a typical gay movie. Since its premiere at the London Lesbian and Gay Film Festival earlier this year, the film has gathered acclaim at gay festivals all over the world. In January AKA hits the granddaddy of all festivals: Sundance. So before he becomes too famous, Jack Leger talks to Duncan Roy about his film and other things...

QX: Tell me about your background. This is your first feature, but not your first film.
DR: I made two short films: Jackson: My Life Your Fault in 1995 and Clancy's Kitchen in 1996. Ever since I got out of prison I'd been in the theatre, I'd been involved in restaurant running, gallery owning and all sorts of things. And film sort of synthesized all of those things. The two shorts were well-received internationally on the gay circuit. Clancy's Kitchen was shown on Channel 4, and they started working with me on AKA, but then put it into turnaround. So I decided to make it on my own. I knew that I wanted to do some multi-image work. But that's all I knew when I started. The thing about independent filmmaking is that you pretty much write your own rules. I mean, I knew I had to destroy certain elements of traditional filmmaking. And I'm very pleased by the way it's panned out.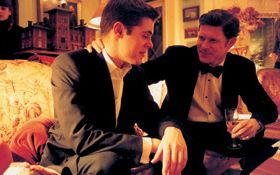 QX: You've had a lot of attention at gay festivals. And the film won the Audience Award at L.A. Outfest. But it's not being seen as a specifically gay film.
DR: I think it's one of those deliciously hybrid films where gay people are represented, are in the film, and yet it doesn't use the traditional territory of a gay film. I mean gay films are for me not about coming out stories or stories where gay people are an issue. A gay priest. The married man who has the affair with the guy. We've found ourselves in a difficult position where historically we've been identified in newspaper articles when we've done bad things. And I think we continue that.
QX: So more than being a gay story, it's about society.
DR: I always look for quite strong political motivation to the work I do. AKA is not a film just about a young boy using a credit card, this is about social mobility, about how if you're gay you can go to a club and you can meet a dustman or a lord. It's very important to remember that we traditionally, because of our sexuality, we've been far more meritocratic. And yet gay people in this country are the ones who seem to support the royal family and the class system more avidly than any other group I know. I'm very clear now about what I think about the royal family and the aristocracy. I think they should be removed. Anyway...

PAGE 1 | 2 | 3 | FEATURES