Diane Keaton didn't become a mother herself until she was 50, when she adopted daughter Dexter in 1996 and son Duke in 2001. She simply says she'd been far too busy! Well, she was, after all, the biggest actress in the world through the 1970s, with a lead role in The Godfather saga and a long relationship with Woody Allen, who wrote Annie Hall especially for her, and for which she won the Best Actress Oscar.
In The Family Stone, Keaton plays bohemian family matriarch Sybil,welcoming her family home for the holidays while secrets and tensions churning under the surface. Triggering the confrontation is the fact that eldest son (Dermot Mulroney) has brought his a high-powered new girlfriend (Sarah Jessica Parker) home with him. And Sybil can't stand her...

What do you think about Sybil Stone?
Keaton: I admire her. She lived her life and she loved her life, and I see nothing wrong with that. At the same time she had five children, which is something everyone should admire. She is a fun women who doesnít know when to shut up and likes to stir. She has had an incredible life as a mother, which is a part of her character I was drawn to. I have two children and I know how tough motherhood can be.

What do you find most difficult about motherhood?
Keaton: The idea of letting go. It takes a tremendous amount of grace to let your children go. You know you have to do it, but when the time comes I know I will find it such a struggle. You just want the ability to watch over them all the time, but thatís not healthy, so you let them make their mistakes.

Did this movie make you think about your own mother?
Keaton: At this point in my life I do think about my mother a great deal. She is 84 and I love her dearly. I feel so differently about her now I am an adult and have children of my own. I think when you are growing up you see your parents as people who are there to look after you and help you achieve your goals. Now I have grown up I donít just think of her as a mother, but as a person full of vitality. I think about who she was before I was around and what she wanted from life.

You adopted both of your children. How did it feel becoming a mother so suddenly - and at such a mature age?
Keaton: When I adopted I immediately had to change as a person and become more giving. It made me realise very quickly that I was completely self-involved. I am an actress after all! I didnít have anyone to tell me how well I was doing, or if I was doing it right, which I was used to. I just wanted to say, how am I doing? Do they like me?

A lot of this movie takes place in the family home. What do you think of your characterís taste in furnishings?
Keaton: I hated it. I thought it was a big, fat mess. There was so much clutter, like she could not stand to throw anything away. It was as though everything in her life was treasured, which is sweet in a way. I have no interest in living that way. You have to let go of things my opinion.

What is your home like?
Keaton: Iím renting at the moment because I recently sold my place, so I am constantly house-hunting. I love the Spanish colonial architecture in Southern California. I am a true Californian, born and raised. Whenever I was away I always looked forward to coming home. You can be in the desert or the snow there, it is so diverse. I always buy old houses and do them up, I think they have more character. I feel as though I am saving them.

You will be 60 next year. Do you worry about growing older?
Keaton: I do feel it is a watershed. I remember thinking on my 30th birthday I was so old. It is hilarious now, but it was such a big deal at the time. The thing about being 60 is that you think about time a tremendous amount. You want to slow everything down and cherish every little moment. Life takes on a very different flavour, it becomes more exciting and frightening the older you get. It is a deeper experience, you are approaching a wall and you know you have to enjoy the journey.

As an actress is it difficult to grow old gracefully?
Keaton: I think it forces you recognise what you have. It is true that as a middle-aged women you feel as though you have disappeared off the planet and it can be tough to get through that. I spent too much of my life waiting to be seen. It became a hunger, I was always desperate to be picked. Once you realise that people arenít looking at you that way anymore you have to depend on other things to get by. I found this discovery an advantage, but it can be very difficult.

How are you going to celebrate your birthday?
Keaton: I donít know what I will do for my 60th. Each decade has got better and better, so I am looking forward to it. My 30th was the worst. That was the Annie Hall time of my life and I hardly told anybody it was my birthday. I thought I might have a big surprise, but actually no one remembered. It was so awful, I felt horrible. But after that they improved. I had a huge celebration for my 50th. I was working on The First Wives Club with Bette Midler and Goldie Hawn in New York at the time, and when they heard it was my birthday they organised a massive party. I had so much fun.

You have recently been romantically linked to your Somethingís Gotta Give co-star Keanu Reeves, age 41. Is there any truth to this?
Keaton: I wish! That is definitely the most hilarious story I have ever read in my life. The funniest thing about it is that I have not even seen Keanu since we finished the movie. I found it so odd that they even made that one up - there are no pictures of us together or anything. It is bizarre but at the same time I have to admit that I did feel slightly flattered. I was very surprised that I was even considered as his type. I find it really funny - the whole May-December thing.

You had a nude scene in that movie. How was that?
Keaton: I just thought to myself, at this point in my life does it really matter? No one looks at me in the way I once imagined and hoped they would. I think people just thought, ĎOh look, there she is. Intact.í

Are you in love at the moment?
Keaton: The loves of my life are my children and my mother. I donít feel as though I need a man. Donít get me wrong, I love men. My son is a man and I love him very much. I think my expectations in the romance area have been diminished. I always feel as though I am walking on eggshells and that to me is scary. Luckily I donít have an opportunity to be lonely because I have kids and my work. That is fine with me.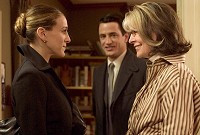 ---
DIANE KEATON
born 5.Jan.46 in Los Angeles
FILMOGRAPHY




Plan B (2001)
Town & Country (2001)
Hanging Up (2000)
The Other Sister (1999)
The Only Thrill (1997)
Marvin's Room (1996)
The First Wives Club (1996)
Father of the Bride Part II (1995)
Manhattan Murder Mystery (1993)
Father of the Bride (1991)
The Godfather Part III (1990)
The Lemon Sisters (1990)
The Good Mother (1988)
Baby Boom (1987)
Radio Days (1987)
Crimes of the Heart (1986)
Mrs Soffel (1984)
The Little Drummer Girl (1984)
Shoot the Moon (1982)
Reds (1981)
Manhattan (1979)
Interiors (1978)
Annie Hall (1977)
Looking for Mr Goodbar (1977)
I Will, I Will... for Now (1976)
Harry and Walter Go to New York (1976)
Love and Death (1975)
The Godfather Part II (1974)
Sleeper (1973)
Play It Again, Sam (1972)
The Godfather (1972)
Lovers and Other Strangers (1970)

---
Keaton has been shortlisted in the Shadows Awards six times: Best Actress in 1997 (Marvin's Room), 1987 (Baby Boom), 1986 (Crimes of the Heart), 1982 (Shoot the Moon), 1981 (Reds - winner); and Best Supporting Actress in 1990 (The Godfather Part III).
---