Both Geoffrey Rush and Charlize Theron have already won Oscars for playing real people--Rush as David Helfgott in Shine, Theron as Aileen Wournos in Monster. Well, they're at it again in The Life and Death of Peter Sellers, with Rush delivering an uncanny turn as the comic genius and Theron as his third wife, the actress Britt Ekland. Here are conversations with both Rush and Theron about playing these roles, among other things...

GEOFFREY RUSH | CHARLIZE THERON

What was the greatest challenge in playing Peter Sellers?
Geoffrey Rush: You can start with the fact that I am tall and thin and he was short and pretty chubby and very hairy. I was also an Aussie. And I was also something of a fan, having heard him in The Goons,which was played on lunchtime radio - years after they were made - when I was getting ready to do matinee theatre. So it was the voice, the looks, the culture, the fact I was in awe - take your pick.

How did you prepare?
Rush: I spent weeks with the voice coach, Barbara Berkery, who had worked with Gwyneth Paltrow on Emma and Renee Zellweger on Bridget Jones's Diary. Sellers did not have just one voice - he changed his accent as he became more successful and thinner. He must have had about six voices of his own throughout his career. Then there were the voices he used for his film characters, which I had to get right, too. There was also some more material when we see Sellers mimicking other people, like the director Blake Edwards (John Lithgow) or his mother, Peg (Miriam Margolyes).

So how come you look so like him on screen?
Rush: That was the result of hours of make-up, every day. I had a total of 38 wigs, for a start. There were prosthetics, too - silicone pieces which go on the skin, which absorb the light. They looked like seven pieces of uncooked veal to start with. But by the time the make-up department finished with me, I could not believe what I saw in the mirror. The trouble was, I would often only get to film about four hours a day because of all the time it took to make me look like him.

Were you shocked to learn what he was really like?
Rush: I realised he was a bit of a handful, but everyone you speak to who worked with him had a different view. I spoke to Goldie Hawn, when I was in Los Angeles, and she said that, on form, he was the funniest man in the world. But she also remembered having him over for one of her Hollywood parties and he walked around, looking sad and silent, staring at the paintings on the walls. She described him as a grown man balancing on a pin. You never knew when he was going to topple.

How do you feel about him now?
Rush: I do not want to demonise him and take care in the film not to do that. He was a complex man, full of originality. He was a star on radio and then did all these amazing films. I can not imagine what it would be like to be both blessed and cursed with all that talent. Life would be tough, which I know sounds ridiculous. But it would be. And he lost it at the end.

How about your own demons?
Rush: I am a simple soul, compared to him. But there is a scary side to acting for me, because I have always wanted to develop rather than plateau out. When people come to me and tell me I was terrific in this or that, I do not want to fall flat on my face the next time. But, tough, I have fallen flat before. You just get up and dust yourself off.

What makes you insecure?
Rush: So many things. I remember a few years ago, just before Shine came out, we were doing a very good and successful production of Hamlet in Sydney, with an excellent actor, Richard Roxborough, as Hamlet. We were doing 104 per cent capacity and people were sleeping overnight to get in. That makes it worse, because you think: It will never be this good again. That is very much how I am as an actor. I was very unhappy at some of the things I did in Shine, for example, but you are committed for ever to the screen.

What was the lowest point in your life?
Rush: I often thought I was in the wrong business. I was pretty seriously thinking of tossing it in before I shot Shine. I do not know why. I was pretty restless, I had been through a bad period of stress induced anxiety - panic attacks - and I was not sure of what I wanted to do. I always had a fantasy of being a chef, because I like kitchen life. And I know at that stage, I was sort of struggling to find something.

Was that because of your lack of success?
Rush: This is what happens when you are on the wrong side of 40. Young adults, who could be your children, are now working with you. I was playing their parents or mentor. I started to think: Oh, I am not part of that group any more. Is this going to be more of the same? Shine came at just the right time, with just the right part for me.

What has success brought you, in terms of material possessions?
Rush: My eye muscles hurt now when I read our MasterCard bill. But we have been pretty sensible about not going mad with it. We decided to move house because I needed more space. I got sick of toys because my office was also the kids room. When the auction sign went up they said: He's moving to Hollywood. We moved about a mile up the road. We have also got a better car - I do not drive, but Jane bought a Volvo station wagon.

So no high-flying life, like Peter Sellers, for you?
Rush: I like to keep things simple and low-key. I could not have lived his life for a moment.

< < BACK TO FEATURES INDEX | P A G E 2 > >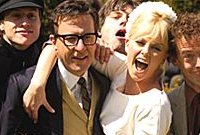 GEOFFREY RUSH FILMOGRAPHY...



Harvie Krumpet (2003)




Swimming Upstream (2003)






The Magic Pudding (2000)
Quills (2000)
House on Haunted Hill (1999)
Mystery Men (1999)
Shakespeare in Love (1998)
Elizabeth (1998)
Les Misérables (1998)
A Little Bit of Soul, (1998)
Oscar and Lucinda (1997)
Call Me Sal (1996)
Children of the Revolution (1996)
Shine (1996)
Twelfth Night (1987)
Starstruck (1982)
Hoodwink (1981)

---