Two of the more intriguing, outspoken figures in filmmaking -- Oscar-winning writer-director-actor Tim Robbins from America and Oscar-nominated actress Samantha Morton from Britain -- talk about their experienceg making Michael Winterbottom's futuristic romantic thriller Code 46...

On being in a futuristic film...
Samantha Morton: You can get focussed on that too much when youíre making a film set in the future. Michael [Winterbottom] wanted to lose that, to liberate us in a way. We were making a film about love as opposed to making a science fiction film with all sorts of gadgets. I enjoyed that aspect of the script, with the focus on two people so that the fact it was set in the future didnít really matter.
Tim Robbins: I really liked the idea of doing a romance. I hadnít done one in a while and I wanted to find one that was interesting. This was set in the future, with the classic love story structure of an obstacle placed between the man and the woman being together. This had classic elements but reinvented in a way that was really interesting. The obstacle was the genetic make up, and the idea that in the future with man messing around so much with cloning that certain people are forbidden from being together, sexually, because of what they might produce. My character and Samís character recognise a love and a faith and a destiny but they have to overcome the obstacles placed in front of them.

On filming in Shanghai, Dubai and Jaipur...
Robbins: You had to be ready for everything. The first couple of weeks were fairly chaotic, because we were in Shanghai and thatís a chaotic kind of city. I canít understand how more cyclists donít get hit, but there donít seem to be any rules on traffic, or maybe itís that the bicycles rule the traffic and the cars are supposed to stop. I couldnít figure it out; it was too chaotic for me. Michael had such a renegade spirit, that we would just jump out of cars and start shooting and that can be fantastic. I think he got some really great stuff there.


Morton: Iíve done a lot of films like that, and itís one of the reasons I love my job. But the separation aspect in the story is one thatís happening more and more in society. People are being pushed into this world thatís encapsulated in their own self. Youíve got all these books on self help, getting to know yourself, doing the right thing, eating the so-called right foods, even down to what books you have on your shelves. People are encouraged to look to themselves first as opposed to being a part of society.
On how Code 46's bleak future is echoed in society already...
Robbins: Thereís a tendency now to rule by fear, to convince people that theyíre in danger constantly. At least in my country, although probably in Britain too. Thereís this scare and that scare, this warning alert and that warning alert. If you just consider what happens when you turn the television off, youíll find if somethingís dangerous to you in your area. Word will get to you. There are some people that are now staring at that thing for hours and hours and hours, becoming completely terrified of life. Thatís not a good thing.
Morton: Actually I think thereís a lot of social conditioning in society even today Ė whether weíre aware of it or not. A lot of people arenít, but it has to do with the image you put out to the rest of the world. You can analyse it and say that to a potential mate youíre saying a lot about yourself in what you wear, for example, and youíre therefore attracting a certain kind of person. The film just focuses on this in a way thatís a little more controlled.
On the film's nightmarish bureaucracy...
Morton: When I was growing up I wanted to go to drama school to become an actor, but you needed a minimum of five GCSEís to even audition for RADA. I left school very young, so I didnít have this piece of paper and I was told I couldnít even audition without it. And then thereís the issue of homelessness in the UK now, itís ridiculous, itís getting like Victorian England. I think the filmís incredible because itís more true to life than any science fiction film Iíve seen. Itís shockingly real. The stuff thatís in the film is happening now; we just choose not to see it.


Robbins: Maybe itís a warning. Maybe itís a way to imagine a future that we donít want to be living in. There are limitations placed in every society. The only way to be totally free is to be free in your mind. There are always going to be restrictions, laws and limitations placed on us. This prevents anarchy. Finding your way to freedom is always a challenge of overcoming whatever obstacles are placed in front of you by society. Thatís a universal theme. Thereís a way to be free in a terribly oppressive society, and thereís a way to be a slave in a free society. Itís really up to the individual and how they choose to live their life and whether they choose to celebrate their freedom or let it lie stagnant and atrophy.
On the film's cautionary message...
Robbins: Imagine that youíre the enforcer of a rule you donít believe in any more. A good parallel would be the policeman who is a good and honest man, but he has to arrest people for smoking pot. He knows that putting these kids in jail is going to make them criminals, it wonít do anything productive for society anyway, so he stops doing it. He makes a decision when he sees that person that heíll ignore it, because he canít participate in that lie any more. But heís not doing his job. His job is to arrest them, but heís making a moral decision. I think [my character] William has reached his limit with these kind of overly intrusive laws that heís involved in the regulation of. When he meets her and he sees her spirit he doesnít have the belief he had when he started his detective work. He doesnít have the passion he had. And this, of course, leads to trouble.
Morton: Weíre all living blinkered lives, and weíre not seeing whatís going on and looking to change it. Iím not saying that everyone has to make a political statement, but we need to be more aware of whatís happening and why. I think itís a film that stays with you. People are coming out and going Ďwowí, and want to see it again. I watched The Usual Suspects again the other night, and Iíve seen it so many times but I can keep watching it and notice different bits each time. This is the same, it really makes you think about things in society, your motivations, your relationships. But, if you want, you can also get lost in the love story.Ē
Thanks to Jo at McDonald Rutter
< < BACK TO FEATURES INDEX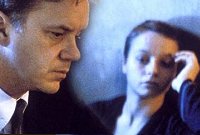 TIM ROBBINS FILMOGRAPHY...





Human Nature (2001)
Antitrust (2001)
High Fidelity (2000)
Mission to Mars (2000)
Austin Powers: The Spy Who Shagged Me (1999)
Cradle Will Rock (1999)
Arlington Road (1999)
Nothing to Lose (1997)
Dead Man Walking (1995)
I.Q. (1994)
PrÍt-ŗ-Porter (1994)
The Shawshank Redemption (1994)
The Hudsucker Proxy (1994)
Short Cuts (1993)
Bob Roberts (1992)
The Player (1992)
Jungle Fever (1991)
Jacob's Ladder (1990)
Twister (1990)
Cadillac Man (1990)
Erik the Viking (1989)
Miss Firecracker (1989)
Tapeheads (1988)
Bull Durham (1988)
Five Corners (1987)
Howard the Duck (1986)
Top Gun (1986)
Fraternity Vacation (1985)
The Sure Thing (1985)
Toy Soldiers (1984)
No Small Affair (1984)

---
SAMANTHA MORTON FILMOGRAPHY...


Eden (2001)



Sweet and Lowdown (1999)
Jesus' Son (1999)
The Last Yellow (1999)
Dreaming of Joseph Lees (1999)
This Is the Sea (1997)
Under the Skin (1997)
The Future Lasts a Long Time (1996)