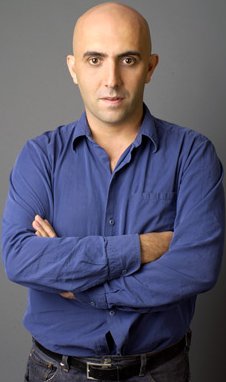 Standing up to Censorship
by Rich Cline (writing as Jack Leger) • QX, 5 February 2003

Argentine-born filmmaker Gaspar Noé is no stranger to controversy. His 1998 film I Stand Alone was chopped by the British censors, and everyone thought his new film Irreversible would be even more severely cut, if not banned altogether. But surprisingly, the new regime at the BBFC granted it an 18 certificate, uncut. It opens across the country on Friday, 31 January.

The buzz began last May at the Cannes Film Festival, where people reportedly fled the Irreversible screening in horror. As the film's star Vincent Cassel says, "The film has a notorious reputation. At Cannes people ran away from the cinema, threw up, fainted. They're just a bunch of wimps!"

Bellucci adds that her mother wasn't in Cannes, but her dad was. After the news reports, "my mum called me and said, 'Monica. What have you done? People are saying you did this horrible movie, your career is finished!' And I said, 'Oh come on, it's only a movie!'" Meanwhile, her dad loved the film!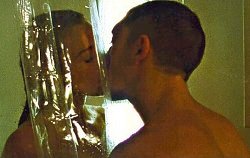 Irreversible opens in a gay S&M nightclub with a scene of astonishing brutality, as two men storm into the Paris club and beat a man to death with a fire extinguisher. It's shot in one take, with gritty cinematography and an energy that gets way under the skin. And this is nothing compared to a scene later in the film, in which Cassel's real-life and on-screen wife Monica Bellucci gets brutally raped, also in a single 10-minute take. The trick is that the film is moving backwards; the murder is revenge for the rape, and the film is actually examining how life can change in a split second.
JUST AN IDEA. After I Stand Alone, Noé decided he wanted to make an even more erotic drama: "I ran into Vincent in a bar and we started talking. He wanted to do a film together with Monica, but we didn't have very much time, because she had to go off to do The Matrix Reloaded in September."
Cassel continues: "Gaspar asked if Monica and I wanted to make the movie Tom and Nicole should have made when they did 'Eyes Wide Shut' ... a porno movie! I knew I'd never make a porno movie with or without Monica. But we started talking and negotiating for body doubles in the explicit scenes. And it all got too complicated. Then we started talking about something different."

PAGE 1 | 2 | 3 | FEATURES