The energetic and chatty Daniel Monzón cowrote and directed the violent prison drama Cell 211 in 2009, and the film has been gathering awards and attention ever since. He has written two more scripts in the meantime, but says that this film won't let him go. But he doesn't mind, because he feels that it's "one of my dearest sons". In London to promote the UK release, I sat down with him and asked where he found the terrific idea that drives this relentlessly involving movie...

Monzón: It came from a book [by Francisco Pérez Gandul]. One of the movie's producers sent me the novel, and I read it in one night. It's a page-turner, and it had a lot of great ideas in it. I thought it was a great idea for a movie: this guy comes to the prison the day before he starts to work, suddenly he's in the middle of a riot and he has to pretend he's a criminal not to be killed by the criminals. It's a high concept, an idea that's going to catch the audience from the beginning. And I thought, OK, I really want to do this because it has the flavour of a Greek tragedy: this character is in a shining moment and in 30 hours he is going to suffer the worst things that a human being can suffer, and he's going to change forever.

Was it tricky to capture this in the script?
It was a challenge for me. You only come with characters plus your skills behind the camera, and you have to grab the audience and not let them free until the end. Because you don't have a lot of locations: this is a pure piece of narrative cinema. So it attracted me a lot. But the first thing we did, my screenwriter and I, was to make it singular; we wanted to make it different, not an homage to American prison movies like the novel is. So we got the basic idea from the novel and then we went to the prisons and we talked to real inmates and guards and we absorbed the reality that we were seeing. And we put all of these things in the script, and finally into the movie. I thought that the best way to tell the story was to give the appearance of reality.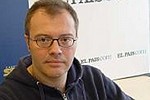 In order to get this realistic appearance, I knew I had to
go to a real jail.

Well, it's shot like a documentary.
Absolutely. I told my DOP that, even though this is fiction, we are making a documentary. This is the idea you have to keep in mind, because every day we are going to set up in a real jail with real inmates. In order to get this realistic appearance, I knew I had to go to a real jail, which we did, and I had to get real inmates in the background and in little roles and mix them with professional actors. And we are going to be guided by them in what a real jail is like.

Did that add some tension while you were shooting?
Yes, for example in the riot scenes there were people who started to act like it was real. They started to bang with their bare hands on the windows, and break them, and it was impossible to yell "cut" in these takes, because people were so noisy. So to cut these action scenes we had to use one of those football air-horns; it was the only way to stop this brutal discharge of energy. And for the real inmates it was kind of like a dream, because they could destroy a prison without being punished for it! So their improvisation was a gift for the movie. It was a very exciting experience.

Was it difficult to work in a real prison?
The most important part was when I went with the actors to the real jail to rehearse there. They were kind of aghast, because there were so many hints about the prison's past. You could see the scratches on the walls, the smells, the noises of the metal doors banging, and in the solitary cells you could see the marks of people who were locked in there saying "please let me go". And to see this was so shocking, to feel it and live it with real inmates, to visit their cells and see how they act and talk. This situation made us sometimes feel like we were real inmates involved in a riot! In the beginning, because this was an old prison, it was dirty and unhealthy, we didn't have running water, and all the film crew was a bit thrown by that. But within a week the team was in the cells taking naps as if we lived there.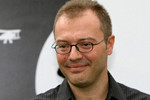 Casting the role
was nuts ... someone who could confront Luis Tosar face-on, with those eyes
like hammers!

This is lead actor Alberto Ammann's first film. How did you find him?
We had eight months of auditions. I really wanted someone new, so he would have instant empathy from the audience. If you use someone who's well-known, there's a distance because you know this guy from that other adventure or whatever. And I wanted to put the audience in the middle of the violence: they have to feel the suffering of this guy, the journey. So casting the role was nuts, trying to find a newcomer for a role that's so demanding. And someone who could confront Luis Tosar [as fearsome prisoner Malamadre] face-on, with those eyes like hammers! But finally Alberto was there. He had done some plays in the States, and my casting director remembered him when everything was almost lost, and I was at the point of saying, "OK, we can't do the movie." Then they brought him for an audition, and his look, his eyes, were so powerful. So we had an audition with Luis and it worked perfectly. We needed someone you could believe was a normal guy, a sweet guy, a pure, innocent, naive guy, who could finally become more malamadre than Malamadre! And Luis Tosar is amazing, of course. But it was more difficult to find Alberto and work with him, to make him believable.

Are you working on something nicer and gentler now?
Yes, I need it! We have written a dark comedy in English that's set here in England. At the same time we have another in Spanish, which I'll probably shoot first, called El Niño, which means The Kid, about a young guy who is dealing hash in the Straits of Gibraltar, which is this very hot area now, the gate to Europe. My writing partner and I spent a long time researching this situation, talking to policemen and delinquents, going to the area. I'm very excited about that movie.

Cell 211 has such a great idea at its core that surely American producers have been interested in remaking it.
When I was in Toronto, American producers were all over me, asking me if I wanted to do an English-language version, but I said, "No, I've done it already." Finally Paul Haggis bought the rights, and he's writing it and probably going to direct it as well. It's the perfect kind of script for two powerful actors, but I don't know what he's going to do. But I'll probably see it - I'll buy my ticket at the cinema like everyone else.

OPTIMUM, LONDON • 29.JUN.11