Aussies have a notorious inability to take themselves seriously, a fact that's hugely apparent when you're in a room with Hugh Jackman, Baz Luhrmann and Catherine Martin to talk about their film, the not-so-modestly titled sprawling epic Australia. There's so much good-humoured banter and inside joking between them that you could almost miss the fact that they know exactly what they're trying to do with this film.

Baz is looking sleek and cool today, with his dandy demeanour augmenting his bone-dry sense of humour. He's chatty and articulate, constantly makes fun of himself and has a wordless rapport with his wife, the Oscar-winning designer who he and Hugh refer to as CM. She knows we don't want to hear from her, so says very little, although she's constantly elbowing the tanned and gorgeous Hugh, mainly to tease him about just being named as People magazine's sexiest man alive. The first question, though, what Baz was thinking when he decided to make this movie...

Baz: There's a childhood love of the genre - this sort of cinematic banquet of broad comedy, romance, action and drama all in one film. And those films left a great impression on me. And then you jump cut forward many years and CM and I have two children, and I remember asking this question: Who are they? Which is something a father should never really ask about their children! But where are they from? What is their home? We were living in Paris, and having roots seemed to be a very important thing. And that was the start of a journey that took us back to Australia four years ago. So I combined this personal journey - the search for home - with a sweeping epic played out against historical events and landscapes. I knew the Japanese bombing of Darwin would make a good action sequence - plus it's not very well-known, even though the same attack force that hit Pearl Harbor came down and wiped out Darwin. But the stolen generation [mixed-race children removed from their Aboriginal homes by the government, a practice that continued into the 1970s] stopped me in my tracks. The more I researched that, I realised that this dark chapter in the story of our country - this scar - was something very serious and difficult that I could put inside a great big entertainment. The stolen generation story had only been dealt with beautifully in smaller films for audiences already familiar with it, but not told in a way in which it could never be swept under the carpet. So foolishly, perhaps, I combined those two things. And that was day one, four years ago.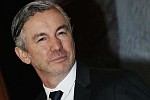 The truth is you don't really finish movies, they just get taken away from you

So it took four years to finish the film?
Baz: It's not finished yet! It's so crazy - three weeks ago I was at a mixing desk recording little Nullah's voiceover. The truth is you don't really finish movies, they just get taken away from you. There I am mixing, and guys with balaclavas and gas masks come in! "No, it's my movie, you're not having it!" That was a Friday - then on Tuesday three thousand people saw it in Sydney at one sitting. The next day we got on a plane to Los Angeles, New York, Paris, Madrid, Rome and we're here. And I still think there's one more scene I'd like to fix. None of my films are ultimately finished in my mind, but they cross a line, they sort of live.

Is it tricky to catch hold of Baz's vision for the film? You must have an extra connection, working with him from the start.
CM: Baz was clear in the direction he wanted to go: a big historical romance. And we had a lot of references there - a secret library of images in our mind. And they met with the kind of research Baz likes every department to do. From the clothes to the hats to the music. We're all sailors on Baz's ship - sometimes we're helping to row, sometimes to bail out water.

Baz: Sometimes to walk the plank!

CM: It's very much getting inside Baz's vision of the film, and then trying to find all the visual references that can help him tell the story.

Baz: My first dialog is with CM; she's my first audience and my last. And that language is built very quickly between the two of us, and she goes out and proselytises hundreds of others.

Is there anything about making the movie that stands out to you, Hugh?
Hugh: Parts of this movie are playing on a stereotype of Australiana, and elements of it are subverted beautifully. But the centre of the story about the stolen generation is something that in school I'd never really heard about. I didn't know any Aborigines really until I was about 19, when I spent some time in the Outback up in this region and started to understand the culture. And then this film really deepened the whole experience for me in a very profound way. We were living on the set in our caravans, and we had open fires, and my son would spend most of the nights sleeping out there with me. And then during the day he would join in on set with the Aboriginal kids in their schooling, and it was quite profound to be with my son there on traditional Aboriginal land. The property we were on is the size of Belgium! It's massive - the most extraordinary place. And it was a privilege from beginning to end.

How did your wife [actress Deborra-Lee Furness] react when you were named Sexiest Man Alive?
Hugh: The very first thing Deb said was, "I knew it! I knew I'd married the sexiest man alive." And the second thing was asking about the process, "So anyone could get it?" And I said, "Well, yeah." And she said, "And Brad Pitt didn't get it?"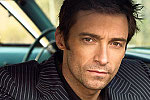 It's historically accurate: that's exactly how they took a shower back then. The camera's not in slow motion - that's me!

There was a story about you fainting on set.
Hugh: It was on the first day of filming, and it was incredibly hot. We were shooting a massive wide shot of the cattle returning to Darwin and my character rides into the stockyards to try to cut off the other cattle. So I was waiting on my horse, ready to go. And about half an hour later, I asked if we were going soon, I was getting really hot. I'm wearing a woollen shirt, leather pants, an all-weather jacket with lining in it, a hat and a horse who got particularly spooked by umbrellas. So no umbrella; I'm sitting in the sun. And they said it would be five minutes, as they were waiting for the cattle to move in the right direction. About 45 minutes later I felt a hand on my back, and a guy telling me I was at a 45 degree angle to the horse. Some guy who was an extra was holding me. And they helped me down, and then CM very graciously cut the jacket out of most of the shoot from that point on!

CM: A glorious moment when I nearly killed the lead actor.

Hugh: I learned that when someone says Baz will be ready in five minutes, it's about time to go and eat lunch, and about an hour from there we'll be ready to shoot.

And what about that steamy shower scene?
Hugh: I said, "Baz, mate, are you sure about this?" He had positioned me in the light, which may have looked comfortable but wasn't. But it's historically accurate: that's exactly how they took a shower back then! [Strikes the muscle-flexing pose] In slow motion! The camera's not in slow motion - that's me!

Baz: There's puny me going, "Like this, Hugh!" [Mimics the pose]

Hugh: And there's me going, "Really?" But of course at the time I knew what we were going for. I got it. I understand the comedy here, and were in a romp and it's fun, and we want to allow the audience to enjoy it and see the wink. And he said, "As long as we're 100 percent bold with it!" And the whole process was bold in every way in terms of action, drama, romance. Even the first kiss between me and Nicole - we did a take and Baz said, "Do it again, but even slower!" And I thought we were really slow. And when I saw the film for the first time sitting next to my wife it seemed even slower. [Laughs]

Nicole Kidman has said this is a dying breed of movies.
Baz: I think what's she's saying is that the cast, the serendipitous nature of the elements that came together, telling an Australian story with Australian practitioners. To go out in the landscape with 200 crew members in pup tents and sit out there and shoot on location, that is definitely dying. We barely got away with that. We mixed what I call the Lean - shooting on location - with the Lucas - the use of visual effects in a sort of painterly manner. For a variety of reasons it will never happen in this way again.

CLARIDGES, LONDON, 8.Dec.08